Want to submit an event to the Startup Durham Region calendar for syndication? Add it here. All events are moderated for approval prior to being added to the calendar.
MailChimp Magic: Create and Launch Your First Email Newsletter
May 6 @ 12:00 pm

-

1:30 pm
If you've always wanted to start an email newsletter, now is the best time! Reach out to existing and potential customers and share what's new about your products, services and policies.
Frustrated with the lack of results from social media marketing? Email communication is proven to be up to 66% more effective at generating sales leads than social media alone. With newsletters and e-bulletins you can build trust, stimulate repeat business and generate referrals.
This course is ideal for small business owners or marketing specialists within an organization.
During this 1.5 hour seminar, participants will learn how to use MailChimp to:
Set up a mailing list with their current contacts
Design engaging newsletter templates
Write Catchy Subject Lines
Design sign-up sheets for new subscribers
Bonus: Discover where to find inspiration for newsletter content.
About the Presenter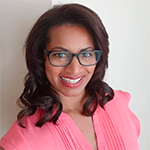 Antoinette Burrell is a Digital Content Writer and the founder of Kismet Digital. She helps businesses articulate their message by creating clear, captivating content for their internal and/or external audiences.
An accomplished Public Speaker and Corporate Trainer, she holds certifications in Corporate Communications, Adult Education, and Digital Media Marketing. She also has more than 15 years of experience as a Technology Instructor and Business Communications Specialist.
Related Events
All events published on Startup Durham are done so as a convenience. Please contact the event organizer for confirmation on date, time, location, and registration information. Startup Durham can not be held liable for errors in event data including cancellation.